Are you eager to visit the Lost Continent of Atlantis? Sorry to burst your bubble, but it probably doesn't exist. However, if you would like to build a holiday around visiting mysterious, underwater cities, you will be thrilled to learn that you really do have options! From Europe to the Middle East to Asia, there is an underwater city just waiting for you to explore!
Dwarka – India
Located 70 feet under the sea near the inhabited island of Bet Dwarka, the ancient, underwater city of Dwarka is a true archaeological treasure worth exploring. It is speculated to have been built sometime between 9,000 and 12,000 years ago and those fortunate enough to visit can witness a diverse variety of buildings in addition to a grid of streets, a seaport and protective walls made of sandstone. Furthermore, the large stone anchors indicate that overseas trade took place in Dwarka during the Age of Antiquity all the way through medieval times. To get there, regular boat transport services are available from the port of Okha, situated around 20 miles away.

Lion City – Qiandao Lake, China
Deliberately flooded in 1959 to make way for a man-made lake and hydroelectric power station, the so-called Lion City (named after the Lion Mountains that surrounded it) was once a political and economic hub in eastern China. It was forgotten for more than 50 years before being rediscovered in 2011. Resting between 85 and 130 feet beneath the turquoise-blue Qiandao Lake, visitors will find wooden staircases and brick houses that are completely preserved. Organized underwater tours are available, and Lion City has become popular among diving enthusiasts.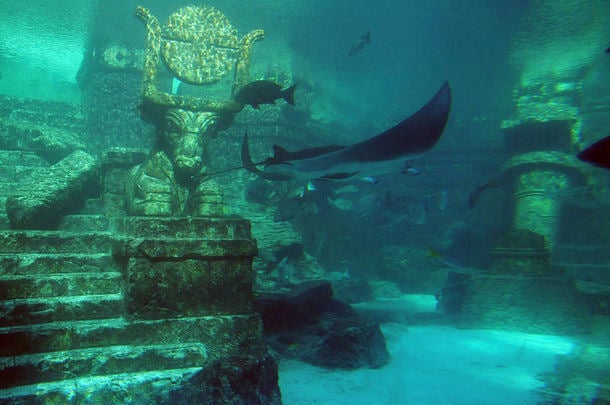 Baia, Italy
Do you appreciate ancient Roman statues, mosaics and relics? Then Parco Sommerso di Baia Area Marina Protetta (Submerged Park of the Protected Baia Marina Area) might just be the place to plan your underwater city vacation. Once a site mainly explored by archeologists, Baia has increasingly become a popular destination for tourists seeking out adventure. There are several options for taking in the eerily preserved ruins. You can catch a ride on a glass-bottomed boat, which allows you to peer down at the archeological treasures. Another option is to take a rubber boat, accompanied by a professional scuba diver equipped with a camera who beams live footage of the sights below. Of course, if you are a true adventurer, your best bet is to do some snorkeling or even don some scuba gear yourself and get up close with the ancient wonders!